中文




English
St Paul Media Centre: Unit 340 Pioneer Centre, 750 Nathan Road, Kowloon, Hong Kong (Prince Edward MTR Exit B2) Tel: 9127 9624 Opening Hours: Monday 12 noon-6pm; Tuesday - Sunday 12 noon-7pm
Copyright © Daughters of St Paul 2016. All rights reserved. 版權所有 不得轉載






Working alongside the Sisters in book displays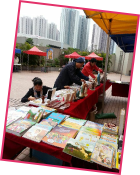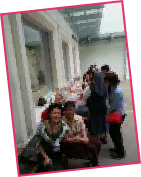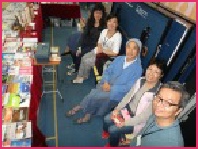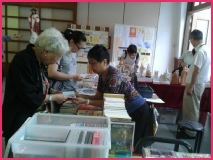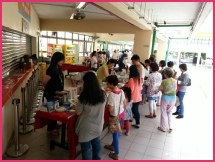 Like last year, we participated in the Christmas party organized by the Missionaries of Charity (MC) Sisters for the disadvantaged.
The morning of December 13, 2014, was a bit cold but the sun in the clear blue sky soon warmed us up.We arrived at the Henry G. Leong Yau Ma Tei Community Centre early to practise the carols to be sung along with the Christmas story. The party started at 11:00 am. About 60 "guests" came and after collecting the breakfast prepared for them by the MC Sisters, they seated around the basketball court, looking forward to the opening of the party.
Ivy was our Master of Ceremonies and story-teller. After introducing the Daughters of St Paul and our founder, Blessed James Alberione, we began our story-telling. We narrated the story of the birth of Jesus from Luke 2:1-20 and inserted carols at appropriate segments of the story. Our carol practice paid off.The guests listened to the story attentively and followed the lyrics of the carols closely. With the help of the song sheet we gave them earlier on, some of them sang along with us.
It seemed that the guests this year were more familiar with the Christmas story and the gospel than last year. The seed of Jesus' love for mankind may have started to germinate in them since our encounter last Christmas. The climax of the party came at the quiz time. The guests enthusiastically put up their hands to answer Ivy's questions and claimed the chocolate Sister Grace awarded for the correct answers. The questions and answers should help the participants get more familiar with the gospel. Finally, we sang "We Wish You a Merry Christmas" and gave them two cards with meaningful texts for a keepsake.
I am the "Saviour" giving you salvation;
I am the "True Light" driving away your darkness;
I am the "Road" guiding your direction; .….
I want to be with you every day, until the end of the world.
After our programme, a volunteer group performed some songs from the Cantonese operas. Then Santa Claus and the volunteers distributed the gifts and rice boxes prepared by the MC Sisters to all the guests. What a happy and warm morning for them!
We were grateful for this opportunity to be God's tool to reach out to the disadvantaged and bring the Good News to them. In God's love, they felt joy and contentment, and this was expressed by the smiles on their faces.
May God's love take root in all of us, regardless of race, religion and social status.
And may all of us respond to God's call for us.