 CHRISTMAS GOOD NEWS IN MONGKOK 2010
On Saturday, 18th December 2010, a group of Pauline Cooperators with Sr Grace Lee, stood at various street corners and pavements in Mongkok, to bring the Gospel Good News of Christmas to the passersby. They offered a small plastic bag containing a Christmas card, two book marks and a Christmas holy picture to those passing in the streets.
What was the reaction of the people? Some of them smiled and accepted the little "gift" when they were greeted with a " Happy Christmas". Others with unhappy faces, or busy attitudes, just passed by and took no notice of us. It was cold, standing in the streets, trying to spread this message of God's Love to people who did not care about other people except their own business and affairs. In fact, one kind-hearted man told Sr Grace, "take care of your health, it's cold here." But Sr Grace wanted to give warmth to the people who may not know that Jesus is being born for them to give them a warm loving life.
Some of the Pauline Cooperators were very glad to have this opportunity to reach out to those who do not know about this special event of the Birth of the Saviour of the world. Many people only think of Christmas as a holiday, to enjoy themselves. Certainly to celebrate Christmas we must enjoy ourselves but we do it because there is a reason for the enjoyment – we are happy because Jesus has come into our world to become one like us, to help us, to love us and to bring us to his eternal happiness.
And we must spread this Christmas spirit by showing our love for other people. How wonderful when we can be kind and helpful to those in need. How beautiful to say some kind words or some encouragement to those who are sad or suffering. And to think of other people who are not so fortunate like us.
Among the people we met, two women spoke to us and told us they wanted to know more about our Christian community. We promised to bring them to a parish church to introduce them to the priest there and maybe to join some catechism class where they can learn more about our faith.
Three smiling ladies were hesitant to accept the gift from us but when they saw we were Catholics, they expressed their joy. They told us that usually Catholics don't distribute Christian literature in public, "only Protestants do" but they admired us for doing it.
This was our first attempt to do some evangelization in public. The Pauline Cooperators also experienced the joy and also the little rejections of the people. Jesus said if the people reject him they too would reject us, so we are in good company – we are just like Jesus. We distributed 1,000 gifts that evening and we went home to pray that God would bless those who have received and that the Good News may make a little difference in their life.
We thank all those who helped us to make this project possible – Billy Ng who printed the Christmas card message, the many ladies who helped to assemble the cards into the plastic bags, the Pauline Cooperators who walked the streets and who braved the different reactions of the passersby… everyone who cooperated in this evangelization project. May the Lord Jesus in his littleness at Christmas bless everyone with great Love, Peace, Joy and Happiness.







Working alongside the Sisters in book displays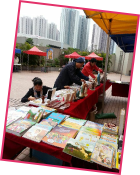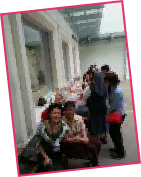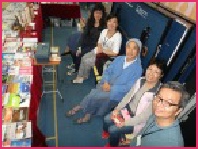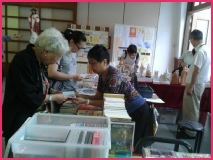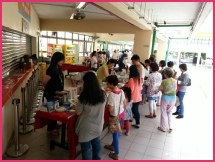 中文




English
St Paul Media Centre: Unit 340 Pioneer Centre, 750 Nathan Road, Kowloon, Hong Kong (Prince Edward MTR Exit B2) Tel: 9127 9624 Opening Hours: Monday 12 noon-6pm; Tuesday - Sunday 12 noon-7pm
Copyright © Daughters of St Paul 2016. All rights reserved. 版權所有 不得轉載