Visit our Media Centre in Pioneer Centre in Mongkok (Tel: 9127 9624) for more good books.
Back
Life's Purpose and Comfort in Hardship are titles from the Classic Wisdom Collection. Each volume in the collection provides time-tested spiritual guidance for living a Christian life. Other titles in this inspiring collection include: A Simple Life: Wisdom from Jane Frances de Chantal, Christ in Our Midst: Wisdom from Caryll Houselander, Courage in Chaos: Wisdom for Francis de Sales, Inner Peace: Wisdom from Jean Pierre de Caussade, Intimacy in Prayer: Wisdom from Bernard of Clairvaux, Path of Holiness: Wisdom from Catherine of Siena, Secret to Happiness: Wisdom from John XXIII, Secrets of the Spirit: Wisdom from Luis Martinez, Solace in Suffering: Wisdom from Thomas a Kempis, Strength in Darkness: Wisdom from John of the Cross, Way of Wonder : Wisdom from G. K. Chesterton.
Price of each title ranges from $56-65
How do I hold on to faith when my heart hurts so much?
In this book, Thérèse of Lisieux and her family recount some of the painful events in their lives. They walk us into a world of deep love and intense suffering. Like an understanding companion, Thérèse shows us that love makes suffering easier to bear.
Publisher Pauline Books & Media, Boston, USA Price $56
Comfort In Hardship: Wisdom from St. Therese

Does life have meaning? What's the purpose of my life?
Drawing from both his sermons and writings, lets us reflect with one of the truly great men of the 19th century on a problem that continues to perplex humanity today.
Publisher Pauline Books & Media, Boston, USA Price $65
Life's Purpose: Wisdom from John Henry Newman

Living Moments of Love / Hope / Faith / Prayer / Silence / Suffering / Sunshine / Truth / Wholeness by J. Maurus
Living Moments series is prepared by the renowned author J. Maurus who has to his credit over 40 books.
Each little book in this series is arranged as a bouquet of beautiful and inspiring thoughts on a particular topic and makes rewarding reading for young and old alike. These little books are also ideal gift-books.
Publisher St Pauls, Bandra, Bombay Price $20 each



In this year of Extraordinary Jubilee of Mercy (8 December 2015 - 20 November 2016), Pope Francis shows us the true meaning of mercy, and how we can imitate Jesus Christ, the face of the mercy of the Father.
The name of the Pope's text is taken from the first line of the text, which, translated in English, reads: Jesus Christ is the face of the Father's mercy …


This is Pope Francis' second book. The name, Laudato Si' meaning Praise be to you, comes from the first line of the Canticle of St Francis of Assisi.
This Letter (called encyclical) calls everyone, Christian and non-Christian alike, to care for our common home, the planet earth. The Pope describes clearly all the damages humans do to the environment and how they can come together to heal and renew Mother Earth…
This is Pope Francis' first book. In this apostolic exhortation, Pope Francis responds to the suggestions of the 2012 Synod of Bishops on the New Evangelization by outlining a roadmap for the Church's pastoral mission and work in the world. He envisions a Church of "Spirit-filled evangelizers" who exude joy and care for God's people, especially the poor…

The Joy of the Gospel by Pope Francis
Pope Francis's Apostolic Exhortation entitled 'Amoris Laetitia', or The Joy of Love, affirms the Church's teaching that stable families are the building blocks of a healthy society and a place where children learn to love, respect and interact with others.
The text warns against idealizing the many challenges facing family life, urging Catholics to care for, rather than condemning, all those whose lives do not reflect the teaching of the Church…

The Joy of the Love by Pope Francis


HOW TO REALLY LOVE YOUR HUSBAND /
HOW TO REALLY LOVE YOUR WIFE by Wright, H. Norman
"Show and tell" is not just for school kids. It's for married people, too. It can be one of the most positive actions you can take in your marriage. In this easy-to-use book, experienced marriage counselor Norma Wright offers tried and true tips for how to put the romance and pizzazz back into your marriage-and keep it there!.


THE HEALING POWER SERIES by Jean Maalouf is solidly based on Scripture and the theology of Vatican II, and is written in the spirit of Pope John XXIII. These simple, yet profound books provide insightful answers to many of today's problems, and offer a new path to spirituality and wholeness. Topics in this series include BEAUTY, FORGIVENESS, FRIENDSHIP, HOPE, JOY, PEACE, PRAYER, TRUTH …
"Prayer works. It heals. It changes lives. It moves mountains." Why do we pray the way we pray? Our temperament and the way we perceive God radically affect our spiritual life and our prayer life. As Jean Maalouf affirms, when we invite God into our lives through prayer, things are bound to happen …
"The only sane reality is love, and forgiveness is the means to correct the distortions that do not mirror this love." -from the Introduction.
Forgiveness is a powerful agent for healing, a catalyst for growth and change. When we allow ourselves to forgive and be forgiven, we move closer to a healthier relationship with God and others.


This two volume set brings a year's worth of saints into the life of a child. Here, he'll meet kings and queens, doctors, farmers, soldiers, nurses, teachers, architects, and scientists who were saints. He'll discover the lives of saints and blesseds: women and men, teenagers and children of every ethnicity, age, and situation of life imaginable. These friends of God are wonderful role models for every young reader.
These two volumes should be in every child's hands. They are perfect for libraries and classrooms.
SAINTS FOR YOUNG READERS EVERY DAY January – June by Susan Helen Wallace
SAINTS FOR YOUNG READERS EVERY DAY July – December

The book contains prayers for children to say to thirty beloved saints. All around the world, for two thousand years, holy men and women have followed Jesus with amazing dedication, courage, and creativity. Whatever help children might need: with schoolwork, friendships, forgiveness, or discovering how they can make a difference in the world—the saints are just waiting to pray for them!
THE SAINTS PRAY FOR US by Christina Wegendt

Books that heal and inspire
Our Popes and their messages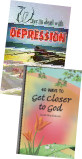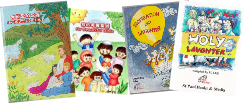 中文




English
St Paul Media Centre: Unit 340 Pioneer Centre, 750 Nathan Road, Kowloon, Hong Kong (Prince Edward MTR Exit B2) Tel: 9127 9624 Opening Hours: Monday 12-6pm; Tuesday-Sunday 12-7pm
Copyright © Daughters of St Paul 2016. All rights reserved. 版權所有 不得轉載