Visit our Media Centre in Pioneer Centre in Mongkok (Tel: 9127 9624) for more good books.
The author is an experienced spiritual leader. His practical challenges can help the readers to fulfill their potentials, avoid pitfalls and achieve a meaningful happy life.
The style of writing is easy to read and filled with stories. Each story shows the situation and the way to practice the guideline. There are also discussion questions on issues of interest and importance to young people.
10 Secrets to Life's Biggest Challenges by Peter Lord with Kent Crockett
Publisher: Daughters of St Paul, India

Man's Search for Meaning by Viktor E. Frankl

In today's world when many young people face intense pressures in school, workplace and in their relationships, it is very important to have a meaning in their life.
This book makes the readers aware of the sufferings and challenges of other people. The first part of the book relates the experiences of the Concentration Camp where thousands of Jews were killed. The author shows them how to face life and find meaning for themselves, so that life is worth living.
Publisher: Society of St Paul, Better Yourself Books, India


Miracle stories fascinate our minds, strengthen our faith and bring a surge of love into our heart. These 25 gripping stories are told with such faith that it is impossible not to believe them. In fact, once you start to read the book, you cannot put it down, you keep on wanting to continue.
Do real miracles happen today, as they did in the time of Jesus? ABSOLUTELY.
Publisher: Society of St Paul, India
Real Life, Real Miracles by James L. Garlow and Keith Wall

To some people it seems impossible that God wants our friendship.
Yet Fr Barry, the well known spiritual director, firmly believes it is exactly what God wants from us. In this book he offers three well-supported and practical sections: prayerful exercises to help lead you to this conviction; a close look at objections to this idea; and reflections on experiencing the presence of God and discerning those experiences.
After reading this book you will feel the amazing embrace of God.

A Friendship Like No Other by William A.Barry, SJ

This book reads like a playful song and dance. The author writes in a simple and fun way, giving his own experiences and stories that illustrate his points. He calls himself "a wreck" and invites all readers who are wrecks like him to take on the journey of transforming oneself to become God's close friends.
You won't get tired of reading this book, especially taking one Topic at a time and practicing what is in it.
40 WAYS TO GET CLOSER TO GOD by Jerry MacGregor
Publisher Daughters of St Paul, India
Publisher St Pauls, Bandra
Next
Back
"These humble reflections of mine are precisely just that—glimpses. They are glimpses of grace. They cannot exhaust the mystery of God. They can never totally uncover the loving face of God. And by no means can they minutely disclose the plan of God for us. They are simply glimpses—perhaps fleeting shallow, and incomplete. But just like glimpses of those in love—they are just sufficient to give light, joy, and energy."
Glimpses of Grace: Homily-Meditations by Fr Rufino c. Sescon Jr.
Publisher: St Paul's, Philippines


A NEW WAY OF LIVING LENT by Sister Clare Ukken
The author, Pauline sister Clare Ukken, has given a complete guide to living this important period of our liturgical year. She explains the meaning of Lent, then she displays all the 40 days of Lent with their readings and spiritual resources for a fruitful Lenten experience.
Practically, everything has been done for the reader. They have only to hold this book in their hand each day of Lent, and they can read the Word of God. After the reading comes a brief meditation, followed by a prayer from the Psalms and concluded with a Lenten action.
Most of the time, simplicity in our spiritual life gets the best results. So here is a simple book with simple suggestions and reflections. All the reader needs to do now is to pray fervently for the grace of God to undertake this Lenten practice earnestly and to have the courage to follow it to the end, which is the Resurrection.

PRAY WITH ME by Grace M. Urbanski
The author shares from her theological expertise and a mother's caring heart to inspire us into a dialogue with God and our family. She gives us highly useful ideas to make prayer an active part of our domestic church.
Price $60
THE WAY TO LOVE by Jess R. Volante
Essays on man-woman relationship in love and marriage.
Price $35

TEACHER'S PRAYER BOOK, A Farry Ginger
This delightful little book written by a full-time teacher contains prayer poems for and about students. It is a wonderful gift for any teacher in any field a gift that will inspire and renew a spirit of enthusiasm.
Price $22


Books that heal and inspire
Our Popes and their messages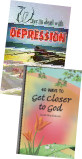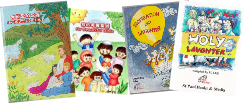 中文




English
St Paul Media Centre: Unit 340 Pioneer Centre, 750 Nathan Road, Kowloon, Hong Kong (Prince Edward MTR Exit B2) Tel: 9127 9624 Opening Hours: Monday 12-6pm; Tuesday-Sunday 12-7pm
Copyright © Daughters of St Paul 2016. All rights reserved. 版權所有 不得轉載