Visit our Media Centre in Pioneer Centre in Mongkok (Tel: 9127 9624) for more good books.
Back
Next
Publisher St Pauls Books & Media
This is an excellent and inspiring book for all teenagers and young adults on the topics that compel their interest and attention: LIFE, LOVE, MARRIAGE AND SEX.
This book is based on Pope John Paul II's famous book called THEOLOGY OF THE BODY which has been studied and used widely among different circles of people as a great source of teaching on LIFE, LOVE, MARRIAGE AND SEX.
Who should read this book?
Everybody, because everybody is interested in life, love, marriage and sex. But this book is specially written for young people so young people are encouraged to read it and understand themselves better, thus preparing them for their future life.
GOD'S PLAN FOR YOU by David Hajduk

Publisher Pauline Books & Media, Boston, USA

Publisher Daughters of St Paul, India
Share the touching experiences of these people and be encouraged and inspired.
40 Stories that Stir and Inspire complied by Saji Antony

Publisher: Daughters of St Paul, India
This book is a collection of popular Marian apparitions and devotions.
Marian Apparitions & Devotions by Sr. Mary Francis LeBlanc
Give Happiness a Chance by Phil Bosmans
This is a delightful gift book that speaks about the problems of love, life and death, and most of all about the joy, the fun and the sheer miracle of being alive.
The author has collected all his talks and writings as a personal counselor for 30 years, and put them into this readable, humorous and helpful booklet. It is also beautifully illustrated.
The first page immediately tells the reader "to use your time to be happy."
The last page reminds the reader to "fill your mind with joyful thoughts, fill your heart with forgiveness, tenderness and love, fill your home with laughter and everything will go well again."
Give this book to yourself, to your friends and to those who need to hear some inspiring and comforting words to make them happy again.
We all encounter conflict--whether it be with a coworker, family member, friend, or complete stranger. And yet we all desire harmony in our relationships. Resolving Everyday Conflict is a practical, biblical, and concise guide to peacemaking in everyday life.
Price $50

RESOLVING EVERYDAY CONFLICT by Ken Sande

Meet every challenge and overcome every obstacle with keys from a female martial arts grandmaster
"An exciting new voice in self-transformation. Having broken through often-impenetrable barriers to women, the author shows us exactly how to let go of limited ways of thinking and break through every obstacle .... A remarkably timely and authentic guide to reaching new heights of happiness and achievement." ―Marci Shimoff, New York Times bestselling author of Happy for No Reason
SEVEN STEPS TO INNER POWER: HOW TO BREAK THROUGH TO AWESOME by Tae Yun Kim
Written for Christians in every walk of life and for every age, St. Francis De Sales' classic work transcends secular lines and provides a unique handbook of spiritual reflection for people in every avenue of life.
Price $75
INTRODUCTION TO THE DEVOUT LIFE: Francis de Sales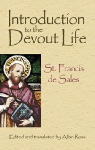 Centering on the imitation of Christ, this has been one of the more important models for retreat in church history.
The Spiritual Exercises of St. Ignatius of Loyola are a brief set of Christian meditations, prayers and mental exercises, divided in four thematic 'weeks' of variable length, designed to be carried out over a period of 28 to 30 days. They were composed to help to discern Jesus in everyday life. Though the underlying spiritual outlook is Catholic, the exercises are often made nowadays by non-Catholics.
SPIRITUAL EXERCISES OF ST. IGNATIUS Translated and edited by Louis J. Puhl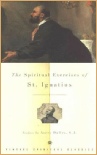 iThis book seeks to be a guide and a companion for those who are involved in the health care ministry. It is intended to offer perspectives or windows through which the individual can have a better understanding of the complex world of health, suffering, dying and death. It embraces three different perspectives: prevention, care and rehabilitation.
The book combines theory with praxis by proposing a number of exercises, the analysis of pastoral dialogues, and the use of case studies.

ART OF CARING FOR THE SICK by Arnaldo Pangrazzimi
VALUES FOR LIFE by S. Ignacimuthu
Values for Life encourages the youth in their pursuit of a value-based, respectable and successful life. The author gives you handy tips of guidance to accompany you throughout your pursuit of building up a good and pleasing character.
Price $50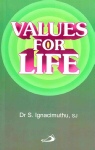 From Empathy to Justice : Stories and Reflections on the Gospels
(Sunday Cycle B) by John D'Mello (2018)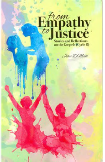 John D'Mello uses the art of narration in an instructive and productive manner. For instance, his personal sharing brilliantly illustrates the difference between empathy and sympathy . His stories often communicate deep spiritual and moral truths just like his very first story which questions whether we value people or things. As in the Bible there is a strong social message in most of these reflections.
Price $58
LOVING JESUS: Mother Teresa
Mother Teresa shares the heart of Jesus in a way that will inspire you to love those who are forgotten and neglected - no matter where they live. Mother Teresa speaks eloquently of the scourge of AIDS, the tragedy of abortion, and the need to provide for abandoned and unwanted children. Besides her reflections on these topics, this book includes a wide-ranging interview with Mother Teresa and a biographical sketch pinpointing important developments in her life. Loving Jesus is not simply the title of a book, but it was a way of life.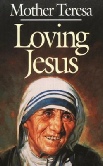 Books that heal and inspire
Our Popes and their messages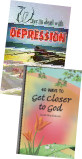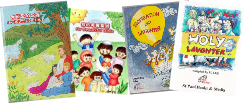 中文




English
St Paul Media Centre: Unit 340 Pioneer Centre, 750 Nathan Road, Kowloon, Hong Kong (Prince Edward MTR Exit B2) Tel: 9127 9624 Opening Hours: Monday 12-6pm; Tuesday-Sunday 12-7pm
Copyright © Daughters of St Paul 2016. All rights reserved. 版權所有 不得轉載