Giuseppe Moscati, a medical doctor of the early 20th century, considered his profession a lay apostolate. He sought out the poor and suffering and treated them without cost. …
Soundtrack in Italian.Englsih and Chinese Subtitles. 200 mins. Price $100



That Sunday afternoon, we went to Good Shepherd Choi Wan Hostel to celebrate an early Christmas with more than a dozen young girls. Our programme included making biscuit mousse, telling the Christmas story, introducing the Daughters of St. Paul, sharing Sr Gesuina's vocation story, games and, last but not the least, dinner with the girls.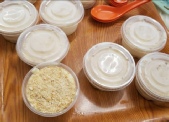 Telling the Christmas story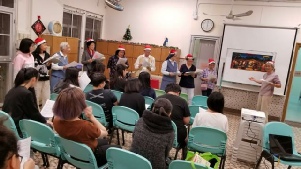 Sr Gesuina sharing her vocation story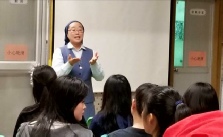 Bringing the
Christmas Message
to Young People
December 3 was the first Sunday of Advent. It also marked the beginning of the Year of Youth in the Catholic Diocese of Hong Kong. As pointed out by Bishop Michael Yeung, "The young people are our hope."
The girls in the hostel were quite different in personality. While some were lively and cheerful, some were quiet introverts, but they were all amiable and lovable. Under the leadership of the social workers, they had prepared a salad before our visit and were wrapping spring rolls when we arrived.
The girls showed us how quick their minds and hands were in making the dessert, singing Christmas carols with us, playing games, getting the main points about the Powerpoint slides and answering our quick questions. Finally, we had dinner together. There was a variety of food and they were all delicious. While we were enjoying our food, we talked with the girls and came to understand their routines and school lives. We also felt how much the social workers cared for them.
Through our Christmas outreach, we helped these young girls understand the salvation brought to us by the birth of Jesus Christ; and through us, God showed His great love to these girls. When we were leaving, they asked us if we would come again. We, too, looked forward to seeing them again!
Introducing the Pauline Family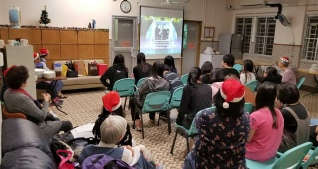 It was a pleasantly cool afternoon with mild sun rays, when we arrived at the Good Shepherd Choi Wan Hostel to celebrate Christmas with the girls there. The hostel, a bit old, was situated in the middle of a hillslope with many trees around. As we walked along the quiet path and climbed down the steps leading to the hostel, we could smell the grass when the wind blew. The social worker opened the door for us and brought us into a bright and clean living- room, about two hundred square feet and simply decorated.
On that day, 18 young women, around sixteen years old or so, joined the celebration. Our programme included a demonstration of how to make biscuit mousse, telling the Christmas story, singing Christmas carols, playing games, introducing the Pauline Family and distributing gifts. Before the visit, we were a bit worried about whether our programme would be suitable or interesting enough for the girls. After all, this generation was very different from us in experience and life styles. Surprisingly, they participated actively in the games and enjoyed themselves a lot. The hostel was full of fun and laughter, and the gifts and biscuit mousse were very warmly received. Afterwards, we had dinner together and talked about this and that. Although the girls were all different in characters and each had their own stories, through talking with them, we came to understand their everyday lives and could feel with them their needs and hopes. We hoped our activities on that day would give them support and encouragement and let them feel that there were people who cared for them and they were not forgotten by society.
Thank God for letting us experience the joy of caring for others through this visit. May God bless us! May we encourage each other, treat each other with compassion, and, through prayers and works of love, continue to care for those who live on the margin of society.
Dominic Lau
17th December, 2017



"It is no longer I who live,
but Christ who lives in me."


中文




English
St Paul Media Centre: Unit 340 Pioneer Centre, 750 Nathan Road, Kowloon, Hong Kong (Prince Edward MTR Exit B2) Tel: 9127 9624 Opening Hours: Monday 12-6:00pm, Tueday-Friday 12-8:00pm
Copyright © Daughters of St Paul 2016. All rights reserved. 版權所有 不得轉載