 To be Vs How to Be


By chance, I had the opportunity to join the 3-day retreat the Pauline Cooperators hold every year.
Actually, what is a Christian (to be)? What methods should I use to become a true Christian (how to be)?

At first I thought the Pauline Cooperators simply modeled themselves on St. Paul and spread the Good News around. However, if I become a member of the community, how should I spread the Good News? What should I do?
In my past retreats, I usually stayed at the stage of recollecting my thoughts and putting aside mundane things, quietly doing my reflection, reading the Bible, listening to the homilies and enjoying the two or three quiet days. However, in these three days, I have learnt "To Be".

To make a retreat is to allow myself to quiet down in preparation of receiving God's seeds. I should strengthen myself and cooperate with God so that the seeds can germinate and grow.

To Be
In solitude, I have learnt the importance of prayers and adoration, opening myself to feel Jesus, the Way, the Truth and the Life. Through talking with Jesus and immersing myself in Him, I have come to understand myself more clearly and know more about Jesus Christ. This allows me to live in Christ and Christ in me.
How to be
So, what should I do?
God has called us with grace and our baptism is our response to Him. Therefore, our first responsibility as a Catholic is to spread the Good News, in particular "The Message of the Cross".

With Father Ha Kei Lung's explanations and through the reading of St. Paul's letters and Acts of the Apostles, I suddenly found that spreading the Good News is just a simple matter - keep an eager and fervent heart every single minute of the day.
If we could be like St. Paul having a fervent heart all the time, we would have enormous motivation to share and proclaim the Good News to others. If I could join a community whose members share the same ideas, same message and same love, we could work together to spread the Good News. Wouldn't this be fulfilling the joy of spreading the Good News?
Thanks be to the Lord! In this retreat, I came to know Paul, the Apostle. I was also reminded of the mission of a Catholic. Let me follow God closely and go all over the world to spread the Good News.
Saint Paul, the Apostle, pray for me! Amen. Christians should reach out to help and support the people in need in a selfless manner.

To have the time and opportunity to be on a retreat is truly a gift from God. We could slow down, rest and pray whole-heartedly to God following the way Jesus set off to pray to God in the wilderness.

It helps us to realise and appreciate the wonder and beauty of nature which God has created for us.

We can learn and be aware of the future trends and challenges the Catholic Church is facing in today's world.

Through group discussions, we get to learn about different views and ways people live as Catholics and followers of Jesus.

I learnt about the life and conversion of St. Paul and how our founder Blessed Fr. Alberione and Sr. Thecla strived to follow "Jesus Master, the Way, the Truth and the Life" in the spirit of St Paul.

The retreat helps cleanse our mind, body and soul. I experienced a physical healing at the retreat.

It reminds us that selfishness will destroy us, make us vulnerable and evil. It also reminds us that following the worldly standards may be damaging and opposing to our Christian beliefs.

It reminds us that God has blessed us with the wonderful gifts of peace, health, family and friends which are by far more important than money and worldly treasures.

Always remember to base our Christian belief on the foundation of love.

Find an opportunity to share the joy and benefits of our retreat with other non-Catholics. My Thoughts of the Annual Retreat
In March this early springtime, I participated in a three-day retreat organized by the Association of Pauline Cooperators. Fr. Louis Ha spared his precious time talking about "The Spirit and Faith of Saint Paul". These are my thoughts of the retreat which I want to share with you, brothers and sisters:
Conversion and Evangelisation
Paul was a Jew and also a Roman citizen. He waited for the great king to come to save the Israelites. He didn't believe Jesus Christ was Son of God, the Messiah everyone was waiting for. He had persecuted the Church in Jerusalem, but Damascus was the turning point of his life. He fully accepted the truth that Jesus Christ is both God and Man. His life was touched by Jesus who was crucified and resurrected, his faith and his attitude toward Jesus both totally changed. He became a communicator who was full of biblical spirits and not afraid of sacrificing his life. "I live, now not I, but Christ lives in me." (Gal 2:19-20)
The Boast of the Cross
When Jesus Christ was crucified, there was a notice fixed to the cross; it ran: "The King of the Jews". According to the Jewish tradition, only slaves would have that kind of punishment. But Christ chose the cross, it's such a paradox, wasn't it? Paul said, "It is out of the question that I should boast at all, except of the cross of our Lord Jesus Christ." (Gal 6:14) Because it was not I who saved myself, but it was God (1 Cor 1:12). Jesus died and was buried. He sacrificed his life to save us, not only by overcoming death, but he passed over the door of death and was raised to life (1 Cor 15:3-4) and now he lives in eternity. This is Paul's evangelisation.
From Paul, we get an important message, to preach Christ's Gospel. Since Christ bore our sins and was crucified, we can have the grace of redemption and blessings.
We are all redeemed by the cross, but the cross everyone has to bear is different. The one who redeems us is not ourselves, but is God. Life itself is a continuous passover. We must trust God, there will be hope. Then, our journey of faith should be living out Jesus Christ every day, going towards eternity together with Christ.
New Man and Secularization
In Romans 12:1-2, Paul said that through the mercies of God, we become the sons and daughters of God. We "should not model our behaviour on the secular world", but "become a new man, with a new life". We should think of changing ourselves, becoming a Christian with justice and real holiness. Fr Ha reminded us to beware of secularization, since we are living in a utilitarian society. We might be assimilated unconsciously in our daily lives.
A Happy Debtor
Paul is Jesus Christ's debtor because Christ's salvation and grace are for everyone, including Paul and us. Although God has freely given us grace, he wants our response to give back to him in other ways, like doing good deeds, participating in righteous and charity work, helping the poor and disabled people. When we give our response, God will give us more. Fr Ha quoted Pope Francis' Apostolic Exhortation "The Joy of the Gospel". "Be acquainted with Christ from the Bible, expand and widen our vision, time and space, follow Christ whole-heartedly and happily like Paul, preach the Gospel, and witness for God.
Saint Paul is the patron saint of our Association, his journey of faith and evangelical spirits, should be honoured and learnt. Hopefully we can continue to carry forward his love for God, emulate his deep faith in God, follow God, and consider the preaching of the Gospel as our mission.
26 March 2015



Working alongside the Sisters in book displays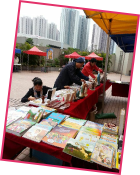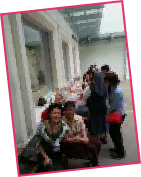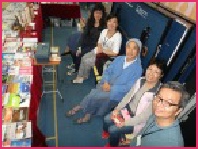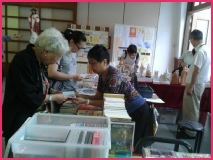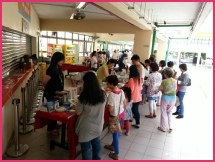 中文




English
St Paul Media Centre: Unit 340 Pioneer Centre, 750 Nathan Road, Kowloon, Hong Kong (Prince Edward MTR Exit B2) Tel: 9127 9624 Opening Hours: Monday 12-6pm; Tuesday-Sunday 12-7pm
Copyright © Daughters of St Paul 2016. All rights reserved. 版權所有 不得轉載