APC Members' Reflection on Fr Louis Ha's talk - Jesus, the Way, the Truth and the Life
The Way, the Truth and the Life Goretti Chiang
Jesus reveals the truth that leads the way to eternal life. He is the source of eternal life.
Jesus established the Church, experienced the truth he revealed and led us forward to the eternally unchanged and lasting life.
On the 3-day retreat between 2-5 May, I could really lay down everything, and encounter Jesus with peace and a thanks-giving heart.
For us, Pauline Cooperators, this retreat did not only deepen our understanding of our Founder, Blessed James Alberion, but also gave us the opportunity to reflect. We must repent unceasingly and turn to God. We must learn to let go and forgive, and appreciate others and do things from our heart. We must also learn to pray, and strengthen our faith through personal reflection.
I would like to thank Sister grace for arranging this beautiful retreat venue for us. Under her guidance, we had a perfect retreat. I have learned a lot during this retreat.





Reflections on Fr. Louis Ha Ke Loon's talk on "Who do you say Jesus is"
Chum Hon Sun & Tina Kwan
We felt really touched by Fr. Louis Ha Ke Loon's talk on "Who do you say Jesus is". Fr. Ha has given us a deeper insight into the meaning of "Jesus is the Way, the Truth and the Life". Jesus's way is indeed not the easiest or the shortest route, in fact, it's a harder, tougher and longer route which is full of pain, sufferings, doubt, mockery and rejections. Yet, not only is Jesus willing to guide us through this arduous journey, he actually bears all our burdens and sufferings upon his own shoulders as He lays himself down as the actual path carrying us and our heavy loads as we trod along His Way. That brings us to the light of how we should not wander off to opt for short cuts or easier routes that we may be tempted or want to take to fulfill our personal desires. We should let the Holy Spirit guide us and follow Jesus's Way in our lives no matter how hard the situations might be.
Fr. Ha's talk also touched on the Beatitudes, "Blessed are the poor in spirit, for theirs is the Kingdom of God". It's much easier to understand what being poor in the reality of the material world means but we never really understood what being "poor in spirit" meant in the Beatitudes. We were given much enlightenment when Fr. Ha explained his view to us on this subject. In order to be "poor in spirit", one needs to give up or rather willing to give up all of yourself, your time and your physical space here on earth, in the glory of God. Fr. Ha mentioned that it is hard to truly understand simply through words and teachings alone but one would be able to comprehend better when one has experienced or lived through the experiences. As God chose to preach us not just in words but in action when he sent his only son to be amidst mankind to show us the way to be truly poor in spirit when Jesus ultimately gave himself up in totality, his time and physical presence here on earth, and accepted his cross not as he willed but as his Father willed Him to do.
In reflection, we think that Jesus has set the perfect example for us to follow. We pondered on Jesus's unconditional love for man, his mercy for sinners and the sick, his willingness to make sacrifices for man, his perseverance in the face of adversities, his total surrender to live out pain and sufferings in flesh and blood, his humility as son of God and his total acceptance of God's will and plan for him here on earth. So as children of God we too must follow Jesus's footsteps as Jesus said: "I am the Way, the Truth and the Life, no one comes to the Father but through Me". (John 14:6)
Retreat May 2014 Sylvia Cheung
This was the first time I participated in a Retreat. When I arrived at the place, I felt calm and happy. When I stepped into the bedroom, I suddenly felt Jesus beside me. I didn't know why I had this feeling. During that period, I was peaceful. I was glad to have the chance to stay in this sacred and peaceful place for three days because I could pray any time and thought more about religious issues. I could also feel that God was always with me. Besides, I had the pleasure of being together with my brothers and sisters. They all were very nice.
I was a little bit disappointed because I was sick during that period. After taking the tablets, I felt very sleepy, and I missed many precious things like Father Ha's Talk. I really hope that I could have another chance to listen to the talk again.
In conclusion, I got a lot from this Retreat.
Thanks God. Amen.
Jesus Teacher, Way, Truth and Life Maria Lam
Jesus is my teacher, way, truth and life.
He guides the direction of my life, teaches me the right way and attitude to treat people and things and he leads me to our Heavenly Father.
He is my one and only way. Only by following him and walking along His road can I be saved from getting confused by the thousands of roads (and traps) in this world. His is a safe road, which can bear my extremely heavy burdens and worries and bring me to eternal life.
He is truth and the light of my life. The Holy Spirit and the Word help me to identify the true, the good and the beautiful, and guide me towards reconciliation with God and men, so that I can become a child of God and obtain the same life as that of Jesus. Jesus is the source and destination of my life. He is the master of my life. His gift of life is love, and he wants me to continue this love in my life forever, and being one with Him to carry out the will of our Father.
"Who are you, Jesus?"
"I am the way, and the truth, and the life.
No one comes to the Father except through me." (John 14:6)
Fung Kit Chu
An easy answer, probably in the rote memory of most Catholics.
But what does this quotation mean to me?
I have taken it to mean that Jesus is our road (the way) to God in heaven and by following his teaching (the truth), we will get eternal life (the life). However, Father Ha's talk during our retreat, has added a new dimension to my understanding of "the way and the life".
The way
Jesus is not just the road (the way) which leads to heaven. Jesus himself is the road. He has humbled himself so much as to be a road which we trample on and which bear all our weight. The road symbolizes our salvation through Christ. Jesus came to this world as a man, carrying all our sins, was denied and humiliated, and finally died for us so that we can have eternal life. Before, my picture of the road was a long and quiet path in front of me. Now, the picture is a road wide and full of people. I hope we will walk with light feet and not inflict damage to the road anymore.
The life
"Life" has always meant eternal life to me. Father Ha's talk has helped me to realize that I've missed the link between this life and eternal life. This link can be established by giving a purpose to our life, which is making use of our life to search for the source of life. God is the source of life. It is only by finding God can we get eternal life. And we can find God only through Jesus Christ. Jesus has told us so many times in the Gospels: "No one comes to the Father except through me." But I've never fully registered it.
Thanks to Sister Grace for inviting Father Ha to give us this talk on "Who is Jesus?" It has helped me to understand Jesus more and feel closer to him.
Pauline Cooperators' Annual Retreat Maria Lam
Sharing of Father Ha's Lecture
The Way, the Truth and the Life – For us, followers of Jesus Christ, seeking the truth is living out our lives.
But there is a deeper meaning. Christ's road (Way) is for us to trample on. He carries all our sins and our weight of all but he doesn't get any return. Thus, we have a road with directions.
Truth is reality, the choices and struggles in our lives. What is fathomable in reality is truth.
Life is the composition of the changing time and space. Because of this composition, we come into contact with the source of life.
To conclude, the meaning of the Way, the Truth and the Life is to give up what we treasure most and what is most important to us, like Christ, who bear our sins and sacrifice his life for us. We should live our lives earnestly and prepare ourselves for a life that is eternal and unchanged.
Starting from this moment, we should think about this deeper aspect of the Way, the Truth, and the Life, and the message it brings to us.
Sharing of the Retreat
The environment of the retreat centre reminded me of a song I love - "Fullness of Love". I was totally submerged in the mood of this song:
"Love to see that the waves stay in my house; love to hear the big waves lashing against the rocks.
The singing is gently pushed ashore by the running water. It's so easy to get intoxicated here and now."
It really helped us to come into God's creation, allowing the heart and mind to slowly settle down, getting away from our busy lives and meeting the Lord in our prayers.
"The wind communicates the truth and righteousness, the rain speaks for Him, telling the new meaning. "
Father Ha's talk has given us a new meaning to the way, the truth, and the life.
"The singing shows gratitude and admiration. Hope what is in this heart is answered."
During this retreat, I felt the love and care of all the members. We helped another and lived in God's love.
"Worldly and mundane matters suffocate and worry us. Glad to be set free in love here and now. "
God bless!
Thank your for your tolerance and support!
"Jesus Master, Way, Truth and Life" Maria Chan
For this year's retreat, we invited Father Louis Ha to talk to us about "Jesus Master, Way, Truth and Life". Fr Ha told us the way (road) was trodden by people and cars. Jesus' life in this world was full of pain and suffering. Jesus pointed out to us the road to life. "Truth" is for us to find. We are different from animals. We can distinguish between truths and lies, good and evil, life and death. "Life" is precious and is passed on from generation to generation. We nurture life with life. Time is life, and life involved changes. From this ever-changing life, we move on to eternal life. Jesus let us see his life, which included suffering and death. In this world, we should inherit Jesus' life, and pass on our lives to others so that we can finish Jesus' mission. We should strength ourselves and make full use of the time and space God has given us. Rely on Jesus' help and follow the right way God has mapped out for us. Always remember: Jesus Master, Way, Truth and Life.
Today's gospel is about Jesus feeding the five thousand with five fish and two loaves. This miracle teaches us to share what we have with others and reflect. God has given us five senses – eyes, ears, mouth, tongue and nose to see, hear, speak and smell, a pair of hands and a pair of legs. We should make use of our body and strength and proclaim Jesus' love for us to the world.
I was responsible for the morning prayer today. On arriving at the retreat house, I found that there were only four ceremonial books, not enough for our group of more than ten. I was upset. Luckily, our group members were most understanding. We switched to another prayer book and my problem was solved. Thank God and all brothers and sisters for including me in such a warm community. Thank you to Sister Grace, our Chairlady and all members for arranging this venue which gave me peace of mind to get close to my Creator and my God.
What was most exciting about this retreat was the readiness of Ah Chum, Tina and Ivy to take their promises as Pauline Cooperators and become members of the Pauline Family. Let us invoke the Holy Spirit to guide us, so that we can work with the Daughters of St Paul, making use of the mass media to spread the Good News and bring Jesus Master, Way, Truth and Life to the world.
Retreat Reflection Sylvia Lam
During the retreat, Fr Ha has helped me understand "Jesus, the Way, the Truth and the Life" much better. I was also deeply impressed with his explanation of "spiritually poor".
Fr Ha points out that the newly converts often ask God for different things during their prayers. It is acceptable to begin with, but we had to understand that our earnest prayers should not be a bargain for God's favours. We often ask for what we think is best for us according to our earthly standards. However, God, the almighty Creator, will give us what is best for us. After listening to Fr Ha, I understood the essence of prayers. All along, my prayers were centred around my work and my daily needs. It was a shock to me to realize that my prayers really sounded like bargains. Like today, I prayed that God would help me to carry out my office assignment smoothly. When I came across obstacles, I repeated the same petition. I felt that I had voiced my petition and God should grant it to me.
Now I would tell myself why not look at the obstacles in my work as opportunities arranged by God for me to develop myself. Today's hard work is a preparation for tomorrow and future success. In face of difficulties, I should not escape. Instead, I should confront them because God will help me through. Our lives are full of ups and downs and sometimes we are at pitch-dark valleys. However, if we rely on God, He will guide us out of darkness. This is an insight I got from this retreat.





































Working alongside the Sisters in book displays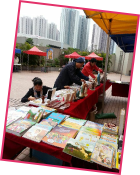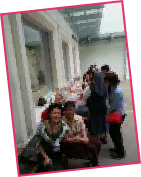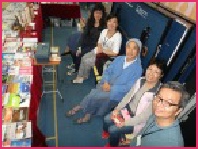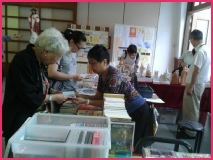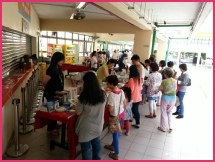 中文




English
St Paul Media Centre: Unit 340 Pioneer Centre, 750 Nathan Road, Kowloon, Hong Kong (Prince Edward MTR Exit B2) Tel: 9127 9624 Opening Hours: Monday 12-6pm; Tuesday-Sunday 12-7pm
Copyright © Daughters of St Paul 2016. All rights reserved. 版權所有 不得轉載