Next
Back
Visit our Media Centre in Pioneer Centre in Mongkok for more good books.
This book collects the memories of John Paul II and brings you into an intimate "talk" with this beloved pope. These stories have been gathered together into this beautiful volume from John Paul's writings and conversations with friends, loved ones, and companions. In John Paul II—The Story of My Life, you are invited to listen to the story of one of the Church's most-loved spiritual fathers, told through his own words.
John Paul II – The Story of My Life by John Paul II, Pope; Gaeta, Saverio
Publisher: Pauline Books & Media
IVita Consecrata, On Consecrated Life, is a reflection on the proceedings of the world Synod of Bishops held in Rome in October 1994. It is a large document of 109 articles and covers, as far as possible, every form of consecrated life.
Vita Consecrata - Apostolic Exhortation of Pope John Paul II

Price : $60 158 pages in full colour.
Catholic Bible stories from the Old and New Testaments for Primary 2 to 6 students

in Chinese and English language

with Bible texts called GOLDEN WORDS, to help students remember key words and messages in the Bible.


Illustrated and spoken thoughts of Korean Daughter of St Paul in Hong Kong, in Chinese and English.
Sr Yan Yan has a talent for humorous drawings and cartoons. In the website of the Daughters of St Paul, she contributed one illustrated Thought every month. All the 30 episodes were collected into a book , and added with a spoken reading in Cantonese. You will be amused and inspired by the little attentions that she gave to ordinary life situations promoting peace and wisdom. An excellent gift for yourself and for your friends.
THE WORLD OF SISTER YAN YAN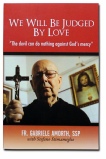 This book shows that God's love is stronger than sin. It gives us hope to practice love for God, so to be received by God at the end of our life.
This book also answers many questions about the devil, what he looks like, his temptations and his evil actions on us.
It explains magic, evil spells, satanic possession, ethnic objects, and other interesting topics that can help the good Christian to avoid falling into the hands of the devil.
The book advises to pray for deliverance and healing, to ask Mother Mary's help and protection, and also to pray to our guardian angel.
We Will Be Judged by Love by Fr. Gabriele Amorth, ssp

This book is written for children as young as 3 years old. The outstanding pictures illustrating the Story of Mary clearly tell the children who is this wonderful person called Mary.
Mary is our heavenly Mother, given to us by Jesus himself. Every follower of Jesus wants to know and love this Mother who is guiding, protecting and leading us to her Son, Jesus.
May this book help the young readers to learn about their heavenly Mother Mary who always did what God wanted because she loves God the most. We too, want to do what God wants as Mary did. This is the way to happiness and joy in our life.
THE STORY OF MARY by Sr Grace Lee
Introductory Promotion: Over 10 copies 20% discount. over 20 copies 30% discount
The author, Pauline sister Clare Ukken, has given a complete guide to living this important period of our liturgical year. She explains the meaning of Lent, then she displays all the 40 days of Lent with their readings and spiritual resources for a fruitful Lenten experience.
Practically, everything has been done for the reader. They have only to hold this book in their hand each day of Lent, and they can read the Word of God. After the reading comes a brief meditation, followed by a prayer from the Psalms and concluded with a Lenten action.
Most of the time, simplicity in our spiritual life gets the best results. So here is a simple book with simple suggestions and reflections. All the reader needs to do now is to pray fervently for the grace of God to undertake this Lenten practice earnestly and to have the courage to follow it to the end, which is the Resurrection.
A NEW WAY OF LIVING LENT by Sr sister Clare Ukken

MERE SPIRITUALITY- the spiritual life according to Henri Nouwen
By Wil Hernandez, PhD, Obl, OSB, Foreword by Ronald Rolheiser
Spirituality at its most basic, is attention to the life of the spirit in us.
Here the author says that an authentic spiritual life is centered on the heart.
A heart-filled life consists of three dimensions: 1) a life set apart for God in communion, 2) a life shared with others in bonding and connectedness, 3) a life given to service, hospitality and compassion.
The reader can enjoy all the richness of Henri Nouwen's books through the skillful synthesis of the author. You need to read this book slowly and attentively to benefit from the spiritual treasures contained in it.
St Paul Publications brings this amazing book at a most modest price. This is sharing God's love with everyone.
This review was written by Sr Mary Grace Lee, fsp

Books that heal and inspire
Our Popes and their messages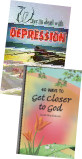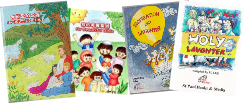 中文




English
St Paul Media Centre: Unit 340 Pioneer Centre, 750 Nathan Road, Kowloon, Hong Kong (Prince Edward MTR Exit B2) Tel: 9127 9624 Opening Hours: Monday 12-6pm; Tuesday-Sunday 12-7pm
Copyright © Daughters of St Paul 2016. All rights reserved. 版權所有 不得轉載